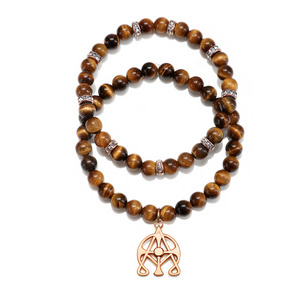 Tiger Eye Bracelet
Set of 2 natural tiger's eye bead stretch bracelets - one with the Rethinking Eve charm*, the other with complementary crystals. 
Dimensions: Each bracelet measures 7" in diameter, with 6mm round tiger's eye beads. Charm measures 5/8" x 7/8" and is approximately 0.062" thick.
Materials: Natural tiger's eye gemstone beads, clear Latex-free Powercord (extra durable); charm is brass; spacers are brass with crystal accents.
Charm is made in the USA; bracelets are assembled by hand in the USA by craftswomen.
*The Rethinking Eve symbol represents universal balance of female and male energy. The design incorporates the O for Omega and the A for Alpha, interwoven with an even-armed cross, representing perfect balance in the universe between the female and the male. Wear it proudly to show your support for gender equality and use #beingEQUAL when you talk about it!